Your phone is ringing and you don't know who is calling?
tellows provides information to identify trustworthy or potential risk calls - thanks to our worldwide community.
tellows - find out who called with the phone number reverse search & caller protection
Community
Find details about reported phone numbers from over 7 million monthly users in 50 countries and participate by becoming a part of tellows community.
Member Area
Edit ratings, create your own blacklist and discover more features by becoming a tellows registered user for free.
Home
The landline solutions for your home and company are available in the tellows shop.
Business
The tellows API offers a variety of solutions. Be our business partner and get access to our database.
5875970
Ratings from community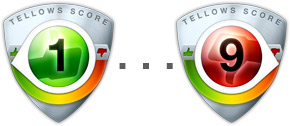 We categorise calls by type (debt collection, serious number, sweepstakes, etc.) and give the number in question a tellows score, which indicates whether a number is trustworthy or suspicious, helping you to decide whether or not to take the call.
---
---
We've all had to deal with the same thing. As your phone rings from dawn till dusk and nuisance calls bask in a sun of trickery, it is the spammer and scammer that will rule the day, but nay we say! au.tellows.org intents to disrupt the fraudster line of success by distributing important information on all sorts of unsolicited calls in Australia. If you receive a call from an unknown number, just access the tellows database and find details on the numbers point of origin and the nature of the call. The people's ignorance is the scammer most effective advantage. Not just scam calls, also text spam has increased over the years. Once you know who you are facing, you will also know the way to counteract their malevolent attempts appropriately. At this, the number's tellows score will tell you whether the caller is reliable or dubious. The higher the score the higher the risk. Learn more about the tellows score.

Join the international community that is currently operating in 52 countries with more than 250,000 users on a daily basis and create your account fast and easy to keep track of your ratings and blocked numbers when using the tellows app for your iPhone or Android to protect you from unwanted calls on the go. Here at tellows-au.com, not only can we provide up-to-date information on regional nuisance-call trends and currently active numbers with the heatmap, we also pinpoint the origin of your call and display it on a map by identifying the prefix. In our blog post we inform about the common scams and fraud methods reported in Australia and how you can protect yourself. Among our website to report phone numbers, we offer a caller protection for your landline phone, mobile apps, current news on the latest scam methods in our blog and a partnership program. Developers can participate in our project and make use of the data about phone scammers and spam phone numbers.

If you want to find out where in Australia people are most bothered by annoying phone calls, then take a look at the heatmap on our statistics page. There are separate tellows websites for each country where you can find details about local numbers that called you like in the United States, United Kingdom, New Zealand and Japan.


Where does the information on telephone numbers come from?
The main indicator of a number's trustworthiness, the tellows-score, is the result of a complex algorithm that is fed by your comments and ratings on numbers. Your participation is the key to successfully counteract future spam and scam attempts, since the caller knows who he or she is dealing with prior to answering the phone. Share your knowledge on the trickery of dubious entrepreneurs and help to deny them their unlawful treasure on tellows-au.com to protect fellow Australians from unwanted calls.

With your spam reports, other people can easily distinguish spam from a genuine number and can pick up the phone without fear. It is never too late to help someone else before they fall for a new fraud. Scammers become more and more tricky and creative. In your comment, you can describe the fraud in details, so everyone knows where the thread is. Additionally, we recommend reporting scams to Scamwatch, the Australian authority for communications and media that can take further action and provides an overview and statistics about reported scams over the years.


concern reported unknown with the number ‎0481 as SMS spam

a number pretend to be an Australian mobile and acturally the prefix is a number calling from Germany.
Beware, this can be fraud

1 Rating for 0481 (Digital mobile service)
Often searched companies
Simon Mills - Morgan Stanley Financial Adviser in Chifley square 2

Financial consultant

Dott & Crossitt Conveyancers in Old castlereagh road

Real estate attorney

Econo Lodge Savannah Park Tamworth in Burgmanns lane 559 -597

Hotel

Coach Chatswood Chase in Chatswood Chase

Handbags shop

A1 Batterypro in Cemetery Road 7

Auto parts store

Aranac Contracting Pty Ltd in Merriwa Street 2

Home builder

Benefit Cosmetics Myer Macquarie in Herring Rd & Waterloo Rd

Eyebrow bar

Vision Radiology Shepparton in Wyndham St 79a

Diagnostic center

Proven Safety Solutions in Level 8, 15 Help Street, Chatswood

Business management consultant

Space Deck Digital in 8 Mladen Ct

Website designer